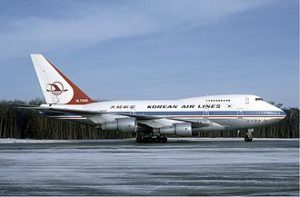 Heather Cho, Korean Air heiress and former executive for the airline, was sentenced to one year in prison on February 12, 2015 following what is being called "nut rage". She has been in custody since December 30, 2014.
Ms. Cho, who is also known as Cho Hyun-ah, was aboard a December 5, 2014 flight from New York when she ordered the chief flight attendant off the flight, and forced the plane to return to the gates at John F. Kennedy Airport.  She had what is described as a "tantrum" after she received her Macadamia nuts in a bag, rather than in a dish.
The Seoul court found Cho, aged 40, guilty of forcing a flight to change its route, obstructing the flight's captain in the performance of their duties, forcing a crew member off a plane, and assaulting a crew member.
The chief steward, Park Chang-jin, reported earlier this month that Ms. Cho forced him and another attendant to apologize on their knees "like slaves in a medieval era" (New York Times, February 12, 2015).
In his sentencing, Chief judge Oh considered that Ms. Cho's behaviour undermined the flight's safety, was verbally and/or physically abusive, and the fact that international news reports on the incident had damaged South Korea's reputation.
In the United States Conrad Hilton, 20-year old heir to the Hilton family fortune and Paris Hilton's brother, was arrested on February 3, 2015, for air rage behaviour on a flight from London to Los Angeles.
Hilton's aggressive outbursts allegedly included yelling and threatening flight attendants, punching the bulkhead of the plane, and other erratic behaviour.  The behaviour occurred mid-flight and eventually resulted in his being restrained to his seat.
Hilton's lawyer, Robert Shapiro, claimed that Hilton's behaviour resulted from adverse reactions to a sleeping pill.  The charges against Mr. Hilton have not yet been proven in court, and there are no trial dates known at this time.
Jayne Embree, M.A.
Jayne holds a Masters in Psychology and is a highly experienced Divorce Coach and Child Specialist. Currently on sabbatical, Jayne is conducting research in the area of family dynamics and parental conflict.
 Areas of Practice: Family law including separation, divorce, mediation, arbitration, child & spousal support, support variations, guardianship, parenting time, access, property division and more. Victoria BC