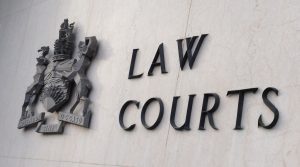 Faris Namrud pled guilty to five counts of fraud over $5,000, in Vancouver Provincial Court Monday November 10, 2014. The "Romancing Plumber" of Vancouver, and Iraqi refugee, has both Criminal and Civil Courts closing in on his fraudulent behavior in connection to his companies Miami Home Renovation Ltd, and Miami Plumbing and Heating.
Mr. Namrud is facing substantial jail time after targeting primarily older women with various fraud schemes.It is alleged that Mr. Namrud solicited clients through Craigslist and the Plenty of Fish websites.
Mr. Namrud's criminal charges follow a Civil Claim filed February 27, 2014. This action resulted in a CBC Consumer investigation. Following the CBC report, several other alleged victims came forward to Vancouver police.
Kassandra Harfield filed a Notice of Civil Claim on February 27, 2014, and stated that she lost $88,000 to Mr. Namrud (also known as Farsi Namrood, Franco Nemro, Franco Loranzo, Franco Montana) when she paid him for construction work that he never delivered.
According to the Notice of Claim, Ms. Harfield paid Mr. Namrud $56,000 (50% of the agreed price) to convert a garage on Cambridge Street into her living quarters. Ms. Harfield later gave Mr. Namrud three additional payments totaling more than $32,000 between March and May of 2013. These additional fees allegedly related to a "Development Permit Fee", "Home Insurance", and an increase in building cost due to a recommended change in building plans.
Ms. Harfield became suspicious when she determined that, despite his assurances and additional "development permit fees", there had been no building application submitted for her project. She later asked Mr. Namrud for a refund referred to as a "comfort cheque", but the two cheques he provided were not cashable.
The CBC reported that Mr. Namrud has faced 11 fraud charges in 10 years, and that some of these charges occurred while Mr. Namrud was on parole following prior sentences. He immigrated to Canada in 1999, and may face deportation following his sentencing on this latest guilty plea.
The civil case has not yet been concluded. The plaintiff's Notice of Civil Claim can be reviewed as follows:
http://www.documentcloud.org/documents/1097847-notice-of-civil-claim-between-kasandra-harfield.html
Victoria lawyer Michael Butterfield recommends that you always check out a person's references and Better Business Bureau history.
"These criminals take advantage of people's trust. The best way to protect yourself is by doing research, checking the internet and rating agencies" said Buttefield.
An Internet search of Mr. Namrud and his company(s) reveals many blog sites dedicated to warning consumers about his behavior.
The Better Business Bureau gave Miami Plumbing and Heating Ltd., located at 5686 Main Street, Vancouver B.C. an "F" rating.
When deciding on a contractor for construction or other home maintenance, it is advisable to do an internet search, get references, and to review business ratings and complaints, through the Better Business Bureau at www.bbb.org.
Jayne Embree
Areas of Practice: Family law including separation, divorce, mediation, arbitration, child & spousal support, support variations, guardianship, parenting time, access, property division and more.
Victoria BC