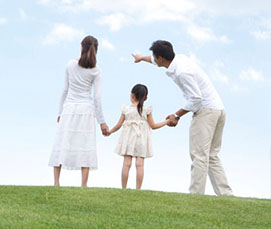 The friendly divorce can happen. According to Joanna Pachner, author of "The Friendly Divorce" (Chatelaine, April 2015 issue),  couples can separate from each other without it resulting in the trauma of breaking up of the family unit.
Pachner describes going through a "divorce revolution".  The revolution involves re-working expectations for marriages, and focusing on building a post-divorce family rather than focusing on the split itself.  This re-focuses families on a friendly divorce, rather than a high-conflict one.
Pachner and her own ex-partner arranged their post-divorce housing around their children, living four blocks apart.  Their children's school is located between the homes, and they fully share the children's custody, care, and costs.  The family even shares holidays, extra-curricular events, and Sunday dinners.
In her article, Pachner featured several families who share similar living and parenting arrangements as herself, couples sharing parenting time and responsibilities, living in the same neighbourhood.  In one case, the couple remodelled their home in order to create 2 suites, where each parent lived; the child moved between the two suites as she wished.
Constance Ahrons, author of the book, The Good Divorce, describes this arrangement as a binuclear family; two households, but one family.  Robert Emery, head of the Center for Children, Families, and the Law at the University of Virginia stated, "Kids can still have a two-parent family, but in different households.  It's completely feasible, and kids thrive in those arrangements."
In 2013, British Columbia's new Family Law Act carefully considered changes in language to create a more cooperative and inclusive approach to settling family law questions.  The Act changed from using terms like "Custody" and "Access" to "Guardianship" and "Parenting Time". Underpinning these changes was the view that the best interests of the children should provide the foundation for a family's decisions regarding guardianship and parenting responsibilities.
Coinciding with B.C.'s new family law act is the court's encouragement for families to try other models of decision making, such as Mediation, and Collaborative Law.
With Mediation, a Mediator assists both parents to negotiate a fair settlement, while focusing on the family's goals.  This makes a "friendly divorce" more possible, because there is common ground to find solutions that work for everyone in the family.
In Collaborative Law, each parent has their own Lawyer negotiating on their behalf, with the assistance of Divorce Coaches and a Financial Specialist.  The Divorce Coaches help the parents with related emotional and adjustment factors.  The Financial Specialist helps the family assess their debts and assets, and comes up with some possible scenarios for managing the re-building phase of their lives.
Is the binuclear family model for everyone?  The binuclear model may not be realistic for every family.  Some families do not have the financial resources necessary to create two homes in close proximity.  Some parents re-locate, in order to secure a better paid job, or more extended family support.  Other parents do not have the emotional control and psychological readiness to live in close proximity to their ex-partner.
As Tracy Schorn, author and blogger stated , "Some of us are just simply heartbroken. We loved with our whole hearts and got replaced in the most humiliating of ways.  The best we can do (and it's an epic struggle some days) is to act with civility. To be the sane parent. To keep the focus on our own lives, and the welfare of our children, and move forward," (Huffington Post, March 28, 2014).
Can you "consciously uncouple", and have a "friendly" divorce?  While it is possible to aspire to these ideals, most couples find it very difficult to untangle and reorganizing their lives during a separation.  Sometimes interacting with a former spouse gets easier with time. Sometimes the addition of new partners and step-family members makes things more complicated.
Regardless of the stage of your divorce, and the method you choose to resolve it, If you consider what is truly in your children's best interests, get support, and negotiate or mediate in good faith, it will help preserve your family relationships along the way.
Jayne Embree, M.A.
Jayne holds a Masters in Psychology and is a highly experienced Divorce Coach and Child Specialist. Currently on sabbatical, Jayne is conducting research in the area of family dynamics and parental conflict.
Areas of Practice: Family law including separation, divorce, mediation, arbitration, child & spousal support, support variations, guardianship, parenting time, access, property division and more. Victoria BC