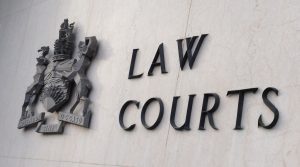 The first of three specialized Court for family Violence was introduced to Duncan and the Cowichan Valley on May 5, 2015. The judge-led initiative was the product of over 5 years' collaboration between the judiciary and local community support agencies, to help reduce family violence.
Domestic Violence, or Family Violence, is defined as "…a range of abusive behaviours that occur within relationships based on kinship, intimacy, dependency, or trust" (Stats Canada, 2013; Family Initiative 2010). Family violence may include physical, sexual, verbal, emotional, or financial abuse and neglect. Victims of family violence suffer a myriad of physical and emotional problems such as increased stress, risk for chronic illness, drug/alcohol dependance, absenteeism from work, and risk of job loss.
The Cowichan Specialized Court for domestic violence is held every second week, and it adopts a therapeutic approach to sentencing offenders who plead guilty to domestic violence offences.  Participants in the process include specially trained Police, Probation Officers, Crown Counsel, victims' services organizations, Child Protection Social Workers, and Native Court Workers.
The sharing of information across service boundaries means that the judge and community service providers (MCFD, Probation, Counsellors), get a more comprehensive picture of the family's history and needs, and the judge can include a service plan in sentencing.  One of the aims is to reduce wait times for violent cases, thereby reducing risk for families while they wait for a resolution to criminal charges.
Most people think of spousal assault, when they think of domestic violence.  A strict definition of family violence can include intimate partners, violence against children and youth, and violence against seniors.
Positive results for the program could include a reduction in the number and seriousness of incidents, as well as healthier families in the community.
Duncan Judge Roger Cutler stated, "Specialized courts like this one offer two critical advantages.  First they provide a formal process in which all participants can gather and share relevant information, ensuring a just resolution in which all factors are considered. Second, both the accused and the complainant are provided services that give them the best opportunity to avoid future violence."
Two more specialized court initiatives will soon be unveiled:
Nanaimo, on May 19, 2015 and

Kelowna/Penticton on June 2, 2015.
The Kelowna/Penticton model will focus on a special trial scheduling initiative for domestic violence cases.
The Domestic Violence Court is similar to Victoria's Integrated Court ("VIC").  That program was developed in 2010, and was driven by a need to treat chronic offenders' co-existing or underlying mental health problems and drug addiction.  One of the goals of VIC, also referred to as "Community Court", was to improve offenders' access to health, social, and economic assistance.
Did You Know?
-According to 2013 Statistics Canada data on police reported family violence:
-48% of family violence incidents involved spousal relationships (married or common law spouses).
-32% of the victims in these spousal cases were men; 68% of the victims were women.
-58% of these incidents involved an assault; 17% involved intimidation (harassment, uttering threats).
For further information on, or assistance with, domestic violence consult the Domestic Violence Helpline at 1-800-563-0808.
To find out about this, and other provincial court programs, check-out their enews.
Jayne Embree, M.A.
Jayne holds a Masters in Psychology and is the Legal Assistant and Mediation Coordinator for Butterfield Law.