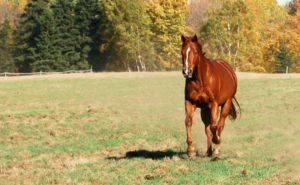 Judge L.Wayne Smith found Terry Cardin, owner and operator of Valle Vista Stables, guilty of using his horse to assault a woman and her 14-year old daughter.  Mr. Cardin, who offers trail riding and daycamps for children and special needs clients, was also convicted of mischief under $5,000 for keying Shauna Morros' car during the conflict.
The conflict began on May 22, 2013, when Ms. Morros went to the farm to groom a horse on the property.  Ms. Morros and her daughter were at the farm with permission of Marianne Neill, who co-leased the 10 acre property with Mr. Cardin.
Morros testified that Cardin became angry with her about being on the property, and was unhappy with where she had parked her car.  Cardin told her, "You get off my property you little c— or I'm going to come over there and drag you off my property."  Later, Morros observed Cardin walking around the side of her car with his arm out, where she later discovered 3 deep scratches that cost $1200 to repair.
Then, on June 10, 2013, Ms. Morros took her daughter to the farm to ride Ms. Neill's horse.  Ms. Morros heard Mr. Cardin tell her daughter that he was going to get the horse to kick her.  Ms. Morros then found her daughter backed into a corner, within kicking distance of the horse as close as 6-8 feet away.
Ms. Morros testified that the horse was backed into her daughter, and that Mr. Cardin waved at the horse trying to get the horse to back up towards the girl.  Ms. Morros further testified that Mr. Cardin hit the horse in the chest, neck, and head, and pulled on the lead rope to make it back up.  The teenage girl did not have an escape route.  Her mother yelled at Mr. Cardin, and threw a martingale (horse strap) at the horse, which caused the horse to move, and the pair were able to remove themselves from the situation.
Crown Prosecutor Patrick Weir told the court that there was "ample authority" to conclude that the horse was used as a weapon, based on cases in which dogs were used in that manner.
Mr. Cardin's Defence Lawyer, Jeremy Mills, advanced the argument that Mr. Cardin's horse acted in response to the teenager's dog.  He is considering an appeal of the verdict.
Mr. Cardin has since moved his stables from Central Saanich to the Prospect Lake area.  He has not yet been sentenced for his crimes, and his next court date is April 16, 2015.
Jayne Embree, M.A.
Jayne holds a Masters in Psychology and is a highly experienced Divorce Coach and Child Specialist. Currently on sabbatical, Jayne is conducting research in the area of family dynamics and parental conflict, and reporting for legal news.
 Areas of Practice: Family law including separation, divorce, mediation, arbitration, child & spousal support, support variations, guardianship, parenting time, access, property division and more. Victoria BC